September is a very busy month at Showtime Sports Cards & Collectibles. We have two In-Store Signings with Jaguars Rookies Yasir Abdullah and Tank Bigsby. Also at our monthly card show on September 16th we will have James Spence Authentications (JSA) on site to authenticate your personal autographed items from 11 to 3. At the end of September on Saturday, September 30th we will be participating in Topps National Trade Night.
As we head full speed into fall and Football season, we continue to stock our shelves with the newest releases in Football, Baseball, Basketball, Hockey, Soccer and other sports cards. Along with other releases of Star Wars, Marvel & popular show products. We continue to carry all the best products from Topps, Panini, Upper Deck, and Leaf as well as Pokemon and other TCG items. We are very proud of our continued Fanatics Certified Dealer Status, as well as Gold Rush, Hit Parade & Tristar Dealers. We also carry the very popular Zion Card Cases.
As always in stock we have lots of great Jaguars Items, including Trevor Lawrence & Travis Etienne Rookie Cards and autographs. Tony Boselli Hall of Fame signed items and even some Jaguars Game Used Pieces.
Ask about our Collecting Club for our younger members aged 5 to 17. Come in and use our Five Star rewards program, where every dollar spent earns you points towards future savings and rewards.
We hope to see you soon, there is a lot going on at Showtime Sports Cards & Collectibles so let us help you Update Your Collection.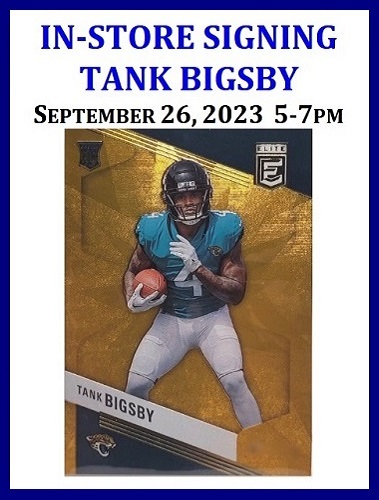 If you are looking for a large selection of sports card memorabilia, you can find it at Showtime Sports Cards & Collectibles. Our 4,000 square foot store is set up similar to an antique mall and features a variety of vendors, items, and autographed memorabilia. Contact us today!

In addition to our large selection of sports collectibles, you can also find gaming, supplies, posters and wall art. Check our shows & events calendar to learn about upcoming shows, promotions, and special guests. Discover Future Show events!